Regular ProTot Sports & Song Time sessions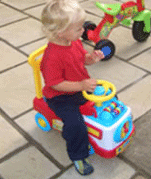 LiTtLe AnGeLs Day Care Nursery is a small, intimate, warm, caring and family-friendly children's nursery based in the centre of Brighton and Hove. It is situated in the residential area of Whitethorn Drive, Withdean, Brighton.
The nursery can register children from 3 months – 5 years of age. The number of staff employed will mean that the staff: child ratio will more than meet the requirements laid down by Ofsted. We offer both part-time and full-time sessions.
Qualified and experienced staff with a varied and wide background in childcare will offer the highest level of care and development for your child.
The nursery has a great off-street parking area, is open from 8am until 6pm Monday to Friday all year around (except bank holidays) and has a large and secure outdoor play area with its very own apple tree and organic vegetable patch. All of this is reflected in the fees.
LiTtLe AnGeLs knows that as parents, you are the primary educators and we are there to support you in this essential role, by providing an excellent level of childcare which will give your child the confidence and ability to succeed in the future.